R. Kelly in custody over unpaid child support: sheriff's official
Hounded by photographers and journalists, R. Kelly walked through the crowd surrounded by his inner circle and wearing a pair of dark glasses.
Though the back child support (said to be an estimated $161,000) is a separate case from the 10 counts of criminal sexual misconduct he is now facing, R. Kelly could be put behind bars if he doesn't pay it off or work something out with the courthouse. His next court date is scheduled for March 13.
R. Kelly has been arrested again, this time over unpaid child support payments. He now reportedly owes $194,000, and was ordered to pay $161,663 to his ex-wife or risk jail time. They share three children: 20-year-old Joann, otherwise known as Buku Abi; Jay, 18; and Robert Jr., who is 16.
According to local reporters, because Kelly's child support case is sealed, no one was allowed in the courtroom except the involved parties. He owes $190,000 to his ex-wife. It was quite a chaotic scene.
It comes just hours after the broadcast of an interview on CBS This Morning in which the R&B star cried and ranted about being "assassinated" by allegations of sexual abuse. The discussion marked his first interview since being charged with 10 counts of aggravated criminal sexual abuse late last month.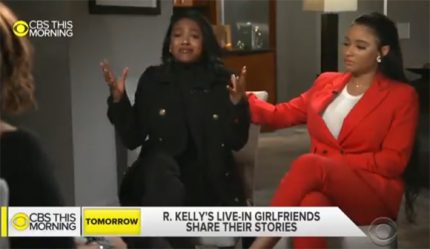 Azriel Clary and Joycelyn Savage want you to leave them alone. CBS News
Cook County Sheriff's Office spokeswoman Sophia Ansari said Kelly will be transferred to the county jail. Instead, Kelly claimed to be the victim, explaining that the numerous allegations against him have prevented him from having a relationship with his children.
Some have asked how R. Kelly's attorney would have let him do the Gayle King interview and many have responded they do not feel it went well for the singer.
"That little girl was trapped in the basement".
"If you really look at that documentary, which I'm sure you have... everybody says something bad about me". I have a harem. a cult.
Hear more in the video below.
[an error occurred while processing the directive]